It is easy to confuse a garage and a carport and it is perfectly understandable as the difference is small yet significant. Primarily carports are sometimes essential in countries where there is limited space to have a garage; affordability is a problem and snow is common. These structures have one major purpose, protect vehicles-it could be any vehicle. Now the question is, how is it different from a standard garage?
The answer is simple; a garage is attached to an existing house or building. However, carports are usually two-walled. They could, however, be either attached to a wall or unattached.
And, perhaps the best part is that carports can be used alongside your existing garage! That solves the problem of keeping both your cars protected. You can also make the carport large enough to park two cars or more. Best of all, it is easy on the pocket and offers nearly the same protection for your vehicle as a standard garage. 
What is a Carport | Sheds Defined
via flickr.com
What is a Shed?
Sheds are structures which have a roof and four walls, typically outside the house. There are various functions and types of sheds and depending on the necessity; sheds could be modified.
They could be large to medium-sized or even small. Whether it be for the gardening purpose or industrial usage, sheds play a major role in storage as well as work.
What are the different types of sheds?
Sheds, as mentioned above could be made of various materials and could be of different sizes too. Depending on the requirement, sheds could range from being small and built using a typical metal frame-work to medium or large-sized structures made of wood.
The smaller structures are usually seen in gardens or backyards, while the larger sheds are commonly found around farmhouses.
Domestic sheds
These sheds are mainly used for storage of things which are needed for gardening or even chemicals and equipment which otherwise could not be stored inside the house. They could be the horizontal, vertical or corner type with modifications inside the shed to meet your needs! They could be apex, pent or reverse apex roofed.
And yes, you could even DIY a shed! Did you know that?
If you go down the DIY route, you can easily build one within a few days. Needless to say, you need to have some expertise with woodworking tools if you want to build your own shed.
Larger sized sheds
A little heavier on the pocket, larger sheds are used for domestic purposes as well. These sheds, due to their larger size, can not only store more items but also have enough space for a workstation.
They have better ventilation and can also be used for purposes other than gardening or typical tool work. Often such sheds can also be transformed into a cozy outdoor office and for other hobby purposes too. Even modifications can be made to facilitate indoor gardening.
via Pinterest
Sheds which have more specific usage
From malls to universities, restaurants to other commercial spaces, sheds are a major contribution towards protecting vehicles as well as providing storage solutions. There are bike sheds for parking bikes; these could be either with basic designs and locking mechanisms or with more protection and safeguarding. Again, they could be open or enclosed. Carports are types of sheds too and contribute to a huge section of sheds and its usage.
There are garden sheds which are used for storage, like tools, etc. On the other hand, there are boat sheds where boats are safeguarded and parked when not in use. Wood sheds help in storage of wood and is very convenient for people who frequently use wood for their daily chores.
Farmers also use a lot of agricultural sheds, again for storage and protection of farm equipment and produce. Depending on the production, these could be from small to large and are largely modifiable according to requirements.
Railway sheds are another type which helps in the parking of engines or even for storage, and there are also specialized sheds used by the military for storing artillery.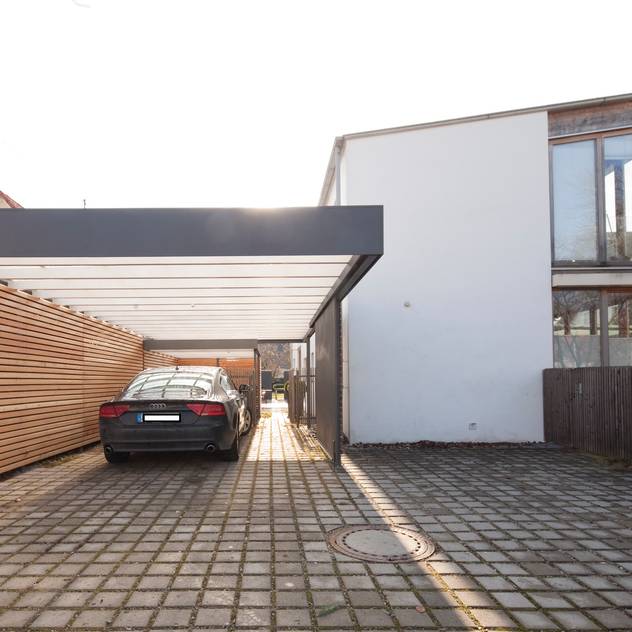 The raw materials
The most common type of materials which are used to build the framework of a shed depends again on its usage, but mostly it is metal or wood. Some sheds could also have vinyl walls.
Metal rooftop, framework, and galvanized sheets are frequently used to build sheds. However, they tend to rust with time, and its long-term durability is weaker than all wood sheds.
Plastic and PVC sheds are also quite popular and are the least expensive. Also, they are easier to maintain than the metal ones.
Although wooden sheds are quite durable, they come at a cost, especially compared to the other materials. Moreover, the maintenance of wooden sheds is higher than vinyl or plastic, but they are much more durable compared to those materials. We suggest you research thoroughly before investing in wooden sheds.
Vinyl, as well as asbestos sheds, are also popular and good alternatives to plastic or wood, even though the major framework of these sheds are wood or plastic.
via gardenista-com
Types of carports
Now that we are done talking about sheds; let us throw some light over carports and the types available. Even though it is not a new concept, some people still hesitate to invest in one.
Metal carports
The most modern form of carports in the market is mostly made of different types of metals. Metal carports are supremely durable and can withstand strong forces of nature like wind and snow. Steel and aluminum are again the most preferred and cheapest, especially steel. Make sure to check the strength and the quality of the steel before purchasing it. This depends on the gauge number of the steel, so higher that is, the better!
Types of metal
Steel 
The most commonly used, cheapest and durable, steel carports which are built out of galvanized steel sheets are the best for carports. These are usually coated with rust free, protection paint and maintains the integrity of the metal for a very long time against the forces of nature. Steel carports are the sturdiest and usually can vouch for a guarantee of up to 20 years! It sure is a good investment to make!
Alumawood
These carports are built using specialized materials, which is typically aluminum, but it is made to look like wood. They are more aesthetically pleasing as they do not have the cheap vibe of a metal like steel. Moreover, it is available in a wide variety of colors. However, the guarantee period is a lot less than Steel Carports and its lasts only up to ten years.
Aluminum carports
Another common material, aluminum is light weight and is very durable like steel. They could again be painted according to one's choice and usually come with a lifetime warranty.
All of these carports come with various options for construction, and you only need to install it. In fact, you can purchase Aluminum Carports in the form of kits, which can be easily put together. This makes perfect sense if you want to save money but do not have the DIY experience for building a carport from the ground up.
Few more variants to choose from
Since carport is such a vital part of cheap yet sturdy protection to your vehicles, it will be fair to mention a few more variants of carports. One of them is prefabricated metal canopies. These are available commercially, and one needs to place orders and give the company sizes according to their needs.
Another variant is a party tent carport, which is basically like a tent and is made of polyurethane poles. However, these don't give the same level of stability as the metal, and permanent variants do.
The best example of the permanent carport is the extension garage which is usually made of concrete and has a PVC rooftop. These are extremely sturdy and serve the best function of a carport.
Portable carports
Music festival grounds and picnic areas are often seen with various types of canopies and portable carports. These structures are very handy when it comes to protecting the vehicles from harsh weather conditions, and even serve as an area for storage.
Portable carports are very useful for animals too, when they need protection. Different sizes and shapes are available for this purpose, and further stability can be attained by placing heavy objects near the stand. Carport kits are also available for this purpose.
Before making the next purchase, it is crucial to remember that the availability of space is well assessed, and so is the weather of the area where the carport would be put into usage. Carports even though cheap, could be space consuming. Hence it makes sense to measure the pros and cons before making the right purchase.
via architektenstudio-melzer.de 
Carports Advantages
Here are some of the advantages of using carports which will surely make it easier for you to purchase the ideal one.
Protection
Since vehicles are quite an investment that a person makes in their life, it is only fair for them to find the best-suited protection for their cars. Although Carports are not as useful compared to garages when it comes to burglaries, it is still better than having nothing. However, their true purpose is offering protection against challenging weather conditions.
Battling weather conditions
Carports ensure that your vehicle is protected from any weather changes. Whether it be snow or hailstorms, rain or heat. A shed on top of a vehicle protects it from harmful rays and also other agents which could potentially damage the car. Even though the same amount of protection is not given by a carport when compared to a garage, it does the job pretty well. Carports also help in protecting the car from bird droppings, dry leaves, dust, etc.
 They are versatile
As mentioned earlier, carports could be used for various purposes, and not just for vehicles. From picnics and for parking cars to even using carport for a front porch, they are pretty handy dandy!
Storage utility
Carports are excellent for storage purposes. From garden utility to tools and even for storing other vehicles like two-wheelers for which there is not much space in your main garage, a carport comes in to use. The endless ways in which carports could be used for additional storage is difficult to mention, but it sure is a smart buy for your house.
Useful for all the singles
People who live alone tend to have safety issues and also storage issues. Carports ensure that their vehicle could be kept near their house and also in a safe environment. The car is kept locked and protected, and further security could be added to it with the aid of newest technologies.
Shade
Excellent for kids and children, and also for pets, carports provide a lot of shade from tough weather conditions. One could use a carport for picnics conveniently, especially if it is a lightweight and portable one.
Super convenient
One of the best advantages of a carport is that it does not have a door. Since it is one or two-sided, there is no hassle of carrying keys around or opening it when you are back from shopping or work, the open structure can also adorn greenery, the carport can be seamlessly integrated into your yard through vines that sculpt space.
Carports Disadvantages
The carport is a really complete solution that comes with little to no disadvantages, one could argue that a carport is no garage and while that argument is a tad more sensible when it comes to storing sports cars during the winter it makes little to no difference to a daily driver.
Conclusion
Convenience is key and that is what a carport is !
Make smart choices for your home and invest in the best-suited carport of your choice. It sure is a wise investment to make!
Middle Photo Featured Image Credits Courtesy  yellowrose543.tumblr.com
Related Articles